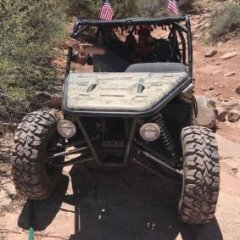 ---
Similar Topics

By Neil Wilson

I just bought a 2008 Trooper T2 not knowing much about them. On this one the owner said the horn doesn't work, the winch never did work and during inspection the rear brake lights didn't work. He said he replaced the rear light pods recently and the brake lights worked before. He said the fuse module is corroded so he bypassed it and rigged up his own switches for the fuel pump and radiator fan. I see in the wiring diagram the horn and rear brake lights are on the same circuit. Now I am worried the problem is in the wiring harness.
I have the wiring diagram from the online manual but I can't make any sense of it. I see lots of posts about wiring issues and I am feeling a bit overwhelmed with all the issues I see with these machines and am regretting buying it.
For now my main concern is to get the brake lights working so I can drive it to some nearby trails. I would appreciate any advice on how to go about diagnosing the problem or workarounds. Also if there is a better wiring diagram out there that might help. I would consider hiring someone local to diagnose it so any recommendations are welcome.
TIA.


By chris.minix

Is the any other ball joint brands out there for the Troopers? 


By Racer310

1-Got  some clicking type noise as if metal to metal and sounds like it is coming from both front and rear A arms. They don't have anything their to grease except maybe take the bolt out and slide back in it?
2-Also manual doesn't give a brand name for the oil filter or a cross reference to buy one at auto parts store.
3-Air filter---where is it? manual I goggled has it in 2 different locations but NO air filter to be found. Maybe it doesn't have one.
4-Love the buggy so far, got LED lights, stereo system, seat covers.......yep and got stuck mugging first time out but had a blast.
Thanks
 


By Travis

Hi, all, I am here to say i have found an excellent source for kawasaki parts, It's run by  Eddie Babbit. It is called Kawasaki Partshouse. run by Babbits online, Muskegon Michigan. http://www.kawasakipartshouse.com/oemparts
Just the other day i ordered piston rings, for my Mule 550, They got here and a Oil ring, and smaller ring were missing from the box, Kawasaki took responsibility for the "Accident" and  I had also contacted babbits, and they replied and they said" keep the old rings, order a new set and you just pay shipping" so i got $30 piston rings for 8.95!!!? Free shipping on orders over $50!!!