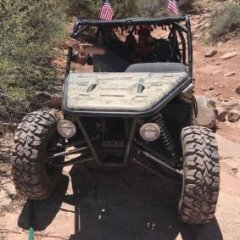 ---
Similar Topics

By chris.minix

Is the any other ball joint brands out there for the Troopers? 


By OldGoatLover

I bought this thing last September.  The farm store was extremely nice. 
But, forget asking for any advice like in the old days.  They only SELL them and tell you to call the Dallas tech person.  
During the week days - I don't have time.  
Oil change:  If there is someone who can tell me why the owner's manual (and the internet) says it holds 2 and 1/2 quarts of oil but, my mechanic could only get 1 and 1/2 quarts in it and there is NO oil filter.  
Please help.  
 


By xbodyman

Does any one have a wire color code on wires one the rear relays on a trooper 2 2008 model i had a lower relay on  the rear fuse block  melt down so i pulled the wire couldnt remember so i looked and thought the black with read was ground any way its a mess please help if you can thanks  Bodyman  ps also were do people get parts now days i could use a fuel sender thanks agin


By johnpeter

2018 Polaris RZR 900 Trail 50" On Ebay
https://www.ebay.com/itm/2018-Polaris-RZR-900-Trail-50/124157654426?