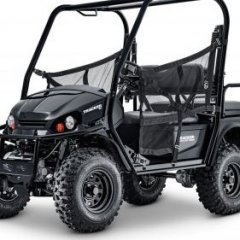 Snow plow kit for 2018 Textron EV UTV
---
Similar Topics

By silverbullett

Just purchased a 2020 Pro DX  with Yanmar diesel. Had a 2007  3010 Trans Diesel I traded in. My problem is that the new machine is so much noisier  than my old one.
Has anyone had any luck in quieting down the noise? Sound proofing.?...changing the exhaust routing.?...the muffler? Any ideas or solutions would be appreciated.


By johnpeter

2018 Polaris RZR 4 Turbo On Ebay
https://www.ebay.com/itm/2018-Polaris-RZR-4-Turbo/264744090075?



By John Maloney

The seat belts have a safety feature that make the utv not be able to go over 15 mph if the buckles aren't latched.
2020 hisun 250 sector


By Brando hart

Please help, About to buy a new 2020 mule 700 MX. For driving back to my cottage which is only accessible by a 5 km off-road trail. My parents currently have a 2010 teyrx which does the job for a joke. The trail is fairly smooth -1 big rock Rock section that you have to climb. A big  rtv 1100 Kabota does it no problem as well. 
I am looking into the mule because of its bench seat. One of my dogs cannot run in front because they've had a hip replacement. she also has anxiety and is not fare well on the teyrx. We think mainly because she can't get comfortable because of the centre consul. We were thinking because of the mules bench seat she would be able to sit comfortably between me and my wife.
my concern is the mules off-road capability. Do they fare pretty well in the woods/decently smooth ride?
I also plan to do yardwork and plough my driveway with this mule MX. I love the size of it as well, Because it will be easy to store in my shed plus tow behind in my SUV.
please let me know what it's like in the woods/snow (in Nova Scotia we mainly only have 5inchs Of snow fall on the ground at a time)
please help, me with Determining its off-road capabilities. determining it's off-road capabilities and keep In mind the trail is in good condition. Also my 700 Yamaha raptor, and 400ex use to do the trail amazing. To give an idea that the trail of pretty good.


Similar Tagged Content

By Tom Garofano

need a snow plow for my new pro mx  who has done it and what did you use
  thanks
 tom


By jeffreysmohr

I need help from my fellow UTV'rs. I have a very steep driveway and my 2000 Kaw. Mule 2510 wants to "free wheel" going down it. I have it in low gear and even give it gas to try and get it to engage the low gear (due to it being a constant velocity transmission). It just wants to go faster. I need this machine to hold me back and creep down the hill, not go faster when I press on the throttle. I will need this for plowing my driveway this year. Anybody out there SLOW down their mule? linkage adjustments?